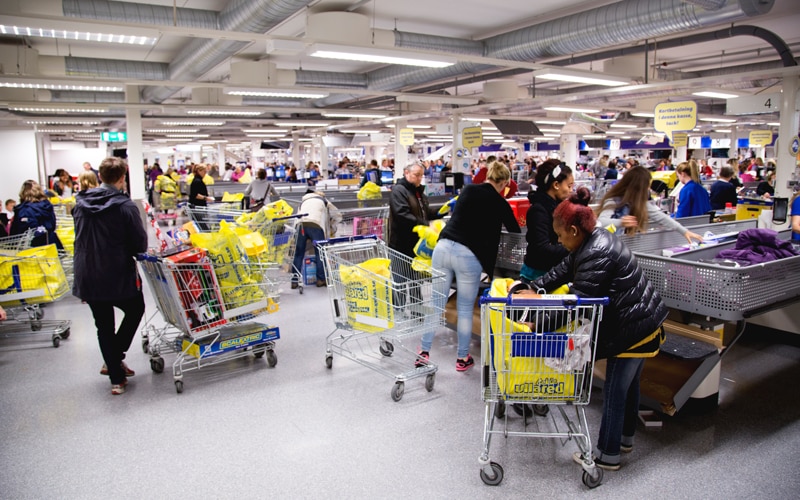 More sales with better washroom experiences
A better washroom leads to better sales. Tork PeakServe enables you to create the best experience for shoppers, increasing satisfaction and spending, and at the same time reducing stress and frustration for your cleaning staff. See how Tork PeakServe® helps the team at Gekås Ullared, maintain the washrooms at a superior standard for 5000 shoppers – every day.
The art of refilling paper towels for five million visitors
Every country has its premier tourist attraction. France has the Louvre. Italy has the St Peter's Basilica. Sweden has a store in the forests of Halland. With almost five million annual visitors, Gekås in Ullared was the obvious choice for a pilot study of the new and innovative hand towel system Tork PeakServe®.
The store that started in the ground floor of a villa in 1967 is today a department store the size of five football pitches. This is where 4.8 million people came in search of bargains during 2016. The average customer spends 4 hours and 43 minutes in the shop and in that time most of them visit one of the 115 toilets several times.
"We currently have 35-40 people who clean at Gekås, and yet it can get really stressful," says Ulrika Kerttu, location manager from Sodexo, the company that manages all cleaning at Gekås. "Every toilet in the department store is cleaned at least three times a day, many significantly more often. Nevertheless, it's almost impossible to keep up with the refilling of hand towels, since there are so many customers that the cleaners have to wait in line to get in and clean. The paper towels mustn't run out and it creates a lot of stress for our staff."
Test of Tork PeakServe
In December 2016, seven Tork Xpress® Multifold Towel dispensers were replaced with the new Tork PeakServe™ Continuous Hand Towel System.
"We chose to put them in the washrooms in the restaurant area", says Ulrika Kerttu. "They are always incredibly busy, and with that location we were able to conduct the test under the absolute highest loads."
After almost half a year's test, the new system gets top marks. "They're absolutely wonderful! This is just what we needed."
An entirely new system for paper hand towels, Tork PeakServe consists of a brand new type of paper hand towel and combines extra high capacity with unique and fast, uninterrupted dispensing. The new towels are compressed, which allows the new dispenser to hold up to 250 percent more towels compared to current hand towel systems.
"It makes a huge difference. We definitely don't need to replenish the towels as often. The fact that the towels are compressed not only means that each dispenser holds more than 100 towels, they also take up considerably less space in storage and on the cleaning carts", says Ulrika Kerttu.
Quick refilling
Tork PeakServe cuts refill time in half and can be topped up at any time. The bundles are inserted from below, while the towels are fed out from the top, giving a smooth action that requires a minimal amount of pull force.
Important for customer satisfaction
A recent survey* showed that dirty and overcrowded washroom facilities is the number one issue bothering guests at high-traffic venues. A total of 71 percent have had a negative experience of the washroom facilities when they visited a place with many visitors. This is something that can affect businesses, since two out of five who have had a bad experience tell their friends about it. Adapted for many visitors Håkan Pettersson, sales rep at Ahnviks, who currently supplies hygiene material to Gekås, looks forward to the launch of Tork PeakServe. "Tork PeakServe offers something that didn't exist before and we see a great potential. Now that we've seen the benefits in real life, it's clear that the system matches the needs in high-traffic venues. We look forward to incorporating the system into our range."
*Based on IPSOS survey of 3000 people in the US, Great Britain, Germany, France, Poland and Sweden who had visited a site with many visitors in the 9 months prior.