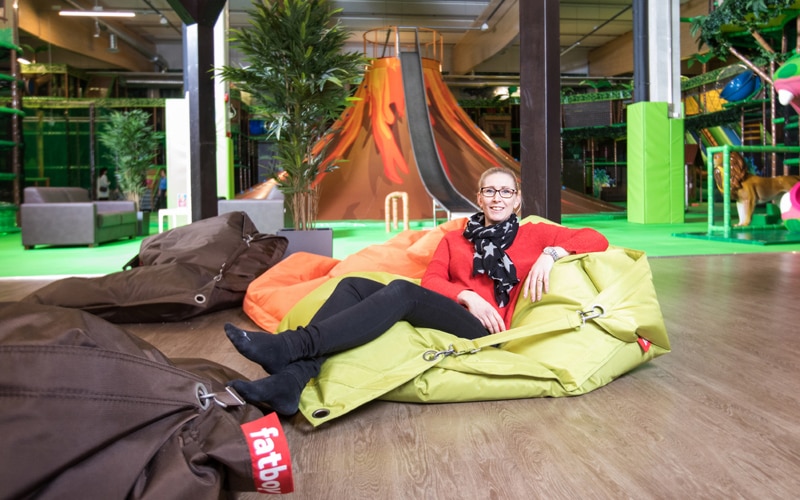 Ready for high pressure at all times
Dirty and overcrowded washrooms are the No.1 issue for visitors at high-traffic venues. Tork PeakServe® Hand Towel Dispensers are designed for even the busiest of washrooms, providing a smooth user experience. This lets your visitors have time to experience your venue to the full, while reducing frustration for cleaning staff. Read about how Tork PeakServe makes hand towels last - even with up to a thousand visitors a day - at the bustling HopLop indoor activity park.
Tork PeakServe hand towel dispensers in use at bustling HopLop indoor activity parks
A whopping 1.6 million customers visit Finland's HopLop adventure parks annually, and, every day, around 200 customers visit each of the park's 22 locations. At peak times, such as on weekends, a thousand guests a day can visit a single park.
Between 2017 and 2018, all HopLop parks were renewed. Tork PeakServe® hand towel dispensers – designed specifically for places that see a large number of visitors – were installed at each location during the renewal. "Apart from a fun day full of play, our customers expect HopLop locations to be tidy and comfortable. The washrooms must be clean and well-equipped with nappy changing stations, soap and hand towels", explains Riitta Hynninen, HopLop's Chief Operating Officer.
Cleaners' time saved with Tork PeakServe® at Raisio HopLop park
In 2018, HopLop opened its biggest park yet in Finland. Located in Raisio, the park's 4200 square metres are brimming with exciting and fun jungle-themed adventure courses, slides and trampolines, and include a huge labyrinth. The park has seen plenty of visitors since its opening, especially so on weekends, when it welcomes guests from morning until closing time. "With Tork PeakServe®, you don't have to worry about hand towels running out. Just refilling the dispensers in the morning will make sure that the towels will last throughout the day, even on the busiest days", says Kaisa Niemi, the park manager at Raisio HopLop.
"The Tork PeakServe® dispensers we are using do not suddenly run out of paper, and, on top of that, the dispensers look smart. Our cleaners also feel that the dispensers are easy to refill." The Tork PeakServe® hand towel dispenser is designed forHopLop-boy-drying-hands_square.jpgbusywashrooms, where a smooth customer experience is expected. The dispenser fits more than 2,000 towels, and refilling is made quick with compressed refill packs. As the dispenser only provides a single towel at a time, the refills last longer while also helping keep litter off the floors. The Tork PeakServe® ensures that staff can focus on cleaning, not on refilling hand towel dispensers. Niemi has noticed that Tork PeakServe® shortens the time required to clean the washrooms. "Without Tork PeakServe®, ordinary hand towel dispensers would need to be refilled every now and then on busy days, when the staff are already in a hurry. The washroom's standard of service is at a good level, thanks to hand towels not running out."