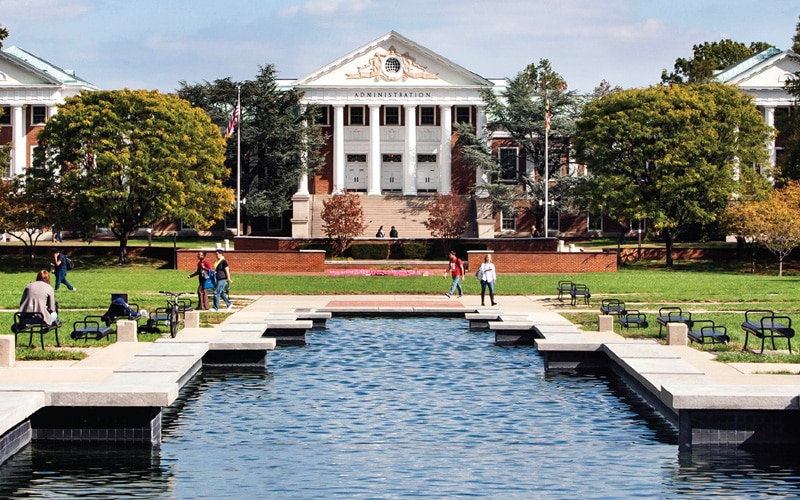 Ensure a good academic environment at all hours
Always providing hand towels to ensure proper hand hygiene helps create a positive washroom experience and shows the school's commitment to student and staff well-being. Tork PeakServe provides 24/7 availability of hand towels and thus ensures proper hand hygiene, leading to less cross-contamination risks and absenteeism. See how Tork PeakServe helps with the complex maintenance of the University of Maryland campus consisting of 96 academic buildings and 13 athletic facilities!
Tork PeakServe marks a new chapter in facility maintenance
With over 6M square feet of space to clean, encompassing 96 academic buildings and 13 athletic facilities, the facilities maintenance team at University of Maryland, College Park, has no small task to manage daily. Founded in 1856, the University has grown over the years and is now home to over 41,000 students and close to 5,000 staff. Their facilities must be in top shape to meet the demands of an ever-growing campus. As home to the Maryland Terrapins throughout 13 athletic facilities, they host sporting events and serve the athletic needs of the campus. With a range of buildings and demands, the team at University of Maryland was looking for a system to improve efficiency while providing a solution that worked all the way from academic buildings to the football stadium. With the help of Tork PeakServe®, they have been able to enhance the cleanliness of their washrooms and reduce the amount of servicing required by their staff.
Fewer checks, fewer issues
During a Terrapins home football game, the University can host upwards of 54K visitors placing a high demand on the washrooms. Athletics Facilities Manager Thomas Saunders shared that, before Tork PeakServe, the maintenance team ran into a number of issues ensuring the washroom experience was a positive one for guests. "Prior to any game, we had to make the decision with each dispenser to either run the risk of running out mid-game or to replace the partially used rolls with a full one, incurring added waste and cost. As dispensers ran out during games, guests would become frustrated as queues formed and the time to move through the washroom increased", Saunders said.
Tork PeakServe helped the team reduce their overall waste without compromising guest experience. Instead, they improved the guest experience by reducing the number of run-outs by allowing the staff to fill up each dispenser prior to an event without having to throw out any product in the dispenser. "The ability to top up the dispenser at any point in time has been a real win for my team and I, reducing our worry about running out during an event." said Saunders.
WinWin for the staff
"One of the bigger hurdles with any major washroom change is gaining the support of the housekeeping staff who work with the product daily", shared Saunders. With over 165 housekeepers on staff, managing this transition and finding a system that worked for the whole team was paramount. Bob Pils, Assistant Director for Building Services, reports that Tork PeakServe has received overwhelming support from the maintenance staff based on its ease of use. "We've had zero resistance from our housekeeping staff when working with Tork PeakServe. The team has found they can carry more refills around the facilities easily with the carry pack and they are bending over less to clean up waste on the floor due to no tabbing with Tork PeakServe", said Pils. Additionally, with fewer moving parts and less to go wrong, the team has reported seeing time savings, allowing them to focus on other tasks.
"Our goal is to ensure that every student, staff member and visitor has the best experience possible when on campus and the washrooms are part of that experience. Tork PeakServe has allowed us to improve that experience while reducing our worry about running out, washroom cleanliness and the many other issues we face with towel dispensers", said Pils. "This is a positive step in the right direction for our housekeeping staff."